First Stop: Cozumel
Our first stop was in Cozumel, Mexico. I have been to Cozumel before, I flew there with a friend and her family in high school. Tons of fun, not as "touristy" as Cancun. I flew to Cancun with my parents in high school as well. I was anxious to return and introduce Andy to Mexico!!
We had already picked up on the fact that this trip was a little more "rocky" than typical. The wind was CRAZY. (when you see news people & their umbrella's are flying out of their hands in storms- yeah, like that) The wind followed us to Cozumel and it was the same way!! The sun was out and super warm, but the wind made it feel much cooler than it really was. ALL of the water excursions for the day were cancelled and some of the smaller ships weren't allowed to even dock there for the day.
Docking was interesting. I'd already seen pictures (thank you Cruise Critic friends) and knew that it was still under construction from the hurricanes in 2005. It was a shock to see in person though, they have alot of work to go...bless their hearts. There is a good bit of destruction everywhere that we went, but they are quickly recovering!
Andy & I booked an excursion through the ship for a "be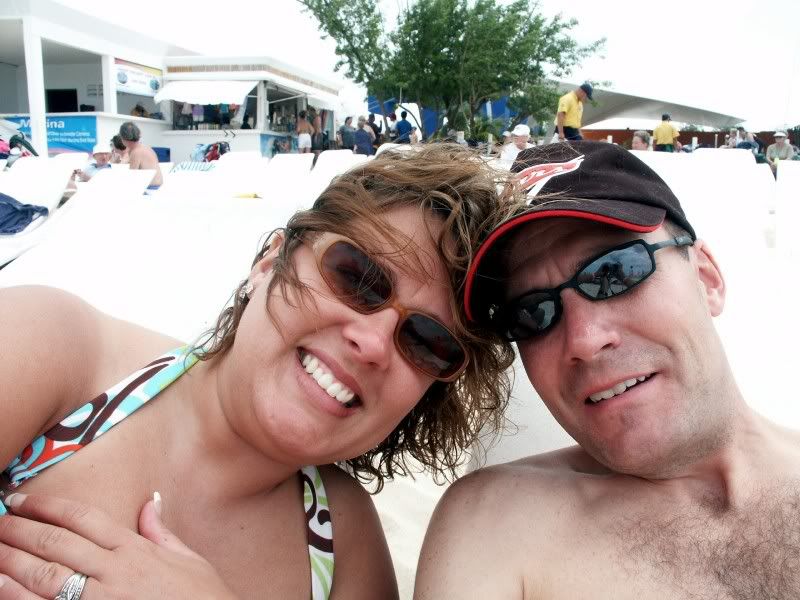 ach break" day @ Playa Mia. It's a little private beach resort set up on the south end of the island. Anyone can go there, you just have to buy a ticket for the day. It was $29 a person and well worth it for us. There were beach chairs that you could use, a few gi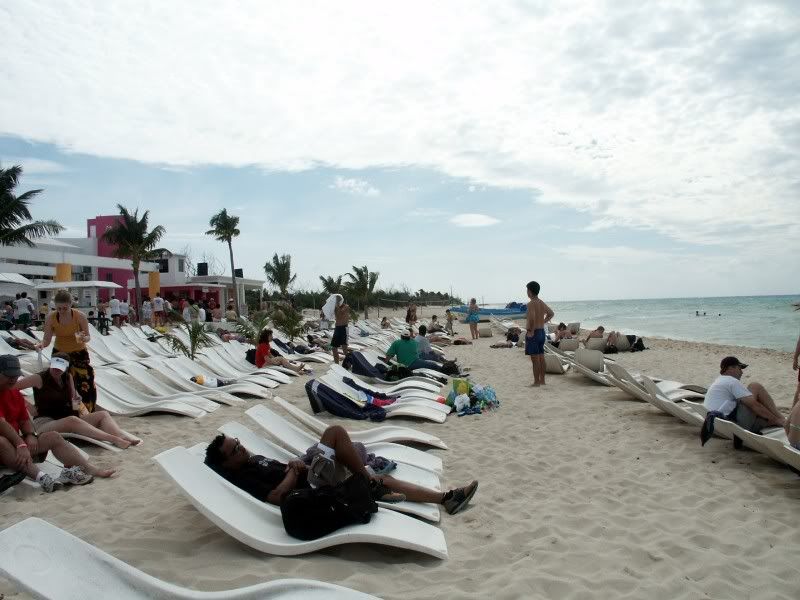 ft stores, very nice clean bathrooms & showers, volleyball, a buffet (extra cost), a bar & grille (extra cost), a big pretty pool, massages (extra cost), water toys (included) igloo/basket ball floating game/water trampoline and something else but they were c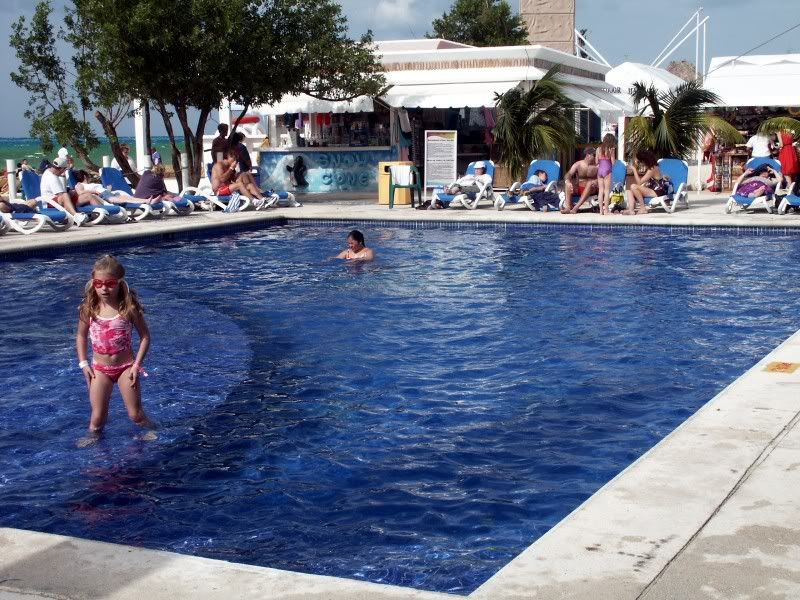 losed due to high wind..we were offered the "sand toys" for free in exchange. The sand toys typically have a fee and include a climbing wall, trampoline thingy and something else?! It was a $4 cab ride from the pier. We enjoyed ourselves big time.
Mom & Da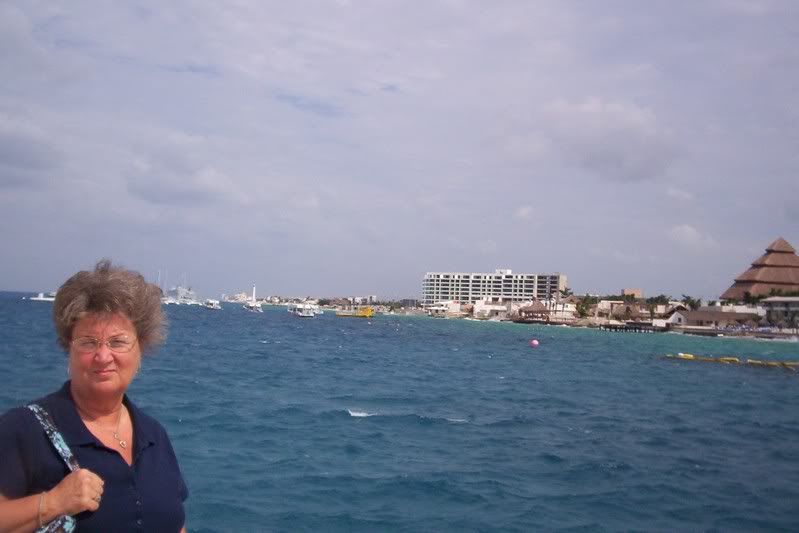 d had planned on shopping. They were all wound up, shopping map in hand. It started with a wild taxi ride that they just couldn't enjoy. They swore that they were taken places that were scary, I don't know....I wasn't there. They also said that they weren't taken to the forum shops that they asked to go to on the front "main drag" of downtown. Again, I wasn't with them and don't know the whole scoop. I am not sure if they asked for the correct location or if they got a crummy cab driver. They didn't make it where they wanted to go though and after about 10 minutes of walking around, they got a taxi and returned to the ship. They were both disappointed. I was sad for them, but they assured me they knew what they were doing. What can ya do? Dad was in awe that "there were mexican's everywhere". Go figure~
We had awesome taxi drivers and enjoyed chatting with them. We found out that a cold front had brought the winds for the past 4 days and it was very unusual. He also said that it was suppose to be ending and that we should have beautiful weather in Belize, which is south. (He was right!) He was also a big Braves fan, funny!!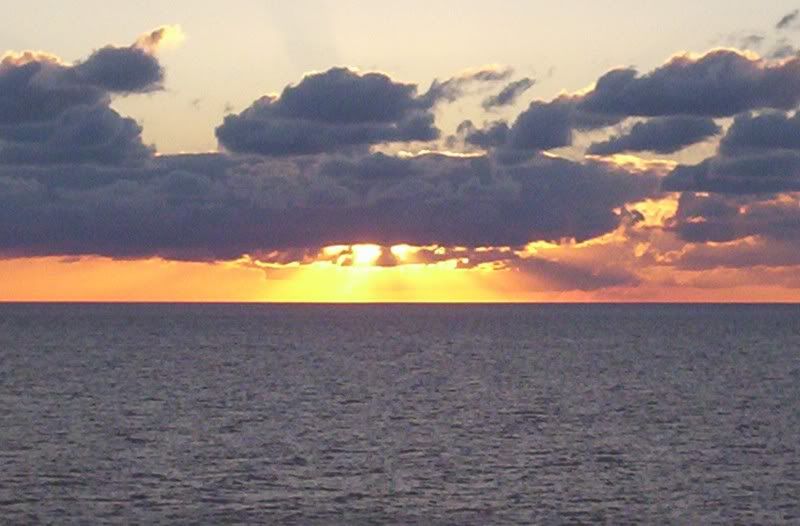 We returned to the ship for a fun filled evening and a huge magic show. "Justin Illusion" was ... ok. The drama & dancers of it all were pretty funny though. That night was late comedy night (adults only) and was hilarious. Happy Cole was there and we'd seen him before, great fun!! I think this was the night of my favorite meal, oddly enough it wasn't the lobster...but rather this yummy shrimp that I hope to get again sometime. Wowie! Good stuff and a fried soft shell crab was on the starter menu and although I didn't get it...I helped Dad with his. It was GREAT!!!!