Last 2 Days
Day at Sea & Nassau
Alrighty- It's time to wrap this trip report up!
Thanksgiving Day was a day at sea:

It was pretty warm that day, but we didn't take time to lay out in the sun at all. It was filled with all sorts of activities. After a late breakfast Andy & I went back to our cabin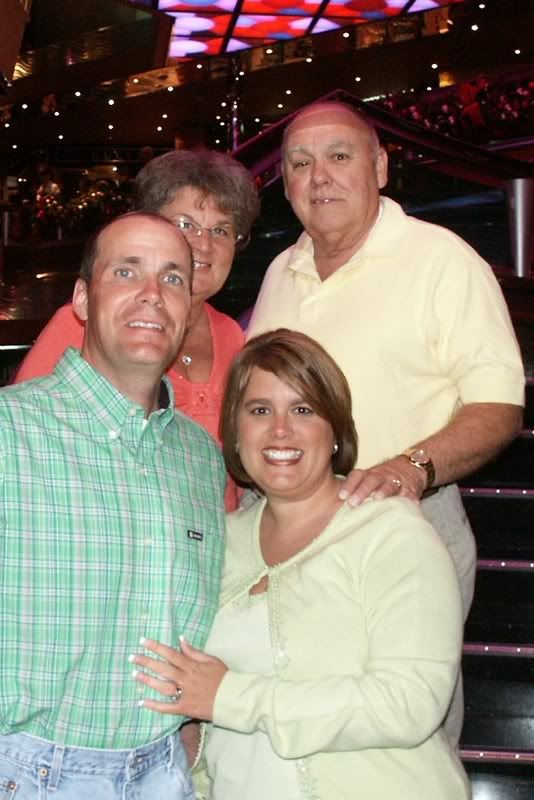 to watch some of the Macy's parade that was being shown a little later on TV. (We were getting our "local" shows & news from a station in Colorado. Funny huh?!) Andy took a round of golf lessons (or was that the other day at sea? it all starts to blend together) he worked out in the gym and went to a few golf activities. Mom, Dad & I went to an "Elvis Tribute" show that was...ok. We all went to the newlywed game, that's always a total hoot! We played bingo and went to a chat with some staff from the ship. The cruise director, a dancer, the assistant cruise director, a member of the orchestra and a backstage entertainment person were all there in a small setting and you could ask them any questions you wanted about life on the ship. There were only about 50-60 people in there and it was really neat. We learned all sorts of interesting facts and laughed alot! If you ever have a chance to attend one of these talks, take advantage of it! The chocolate buffet was also offered at lunch time, wowie zowie...that's always a fun!!! There were other crazy contests at the pool that day that I watched on and off.
I also (after 3 years of talking about it and carrying around pictures from a magazine) decided to take the big plunge and get my haircut by a regular working professional. It's only the 3rd time in my life that I have paid for a haircut!! Most of you know that my Mom was a hairdresser and had her own shop while I was
growing up. She has always (and still does) cut my hair! She refuses to do anything out of the regular cutting long layers in my hair. She knows that if I don't like anything new...she'll be to blame. My hair style hasn't changed in... well, my life! I had the sweetest hairdresser ever and totally enjoyed my (VERY expensive) haircut. It wasn't very different to be honest in the end, but she did make it straighter than it has ever been before. I can't manage to make my naturally curly hair that straight. I LOVED the way it looked, but 3 weeks at home now and it's yet to look like that again. Ugh! What can ya do?
One of the things offered that night for dinner was obviously turkey and all the fixin's. After dinner the show was "A Salute to Broadway" and it was a great show, one of my favorites. There was also the Grand Gala Buffet that night, so pretty just to look at! We ended up skipping eating off of it though. Andy & Dad both headed back for bedtime while Mom & I actually went for pizza. He he he.....
Last Day in Port
Our last and final day was in the port of Nassau. Every ship that leaves Port Canaveral eventually heads to Nassau I think. And as it happens, I think they were ALL there on that day! There were SIX ships in port, the most I've ever seen in one place! It was wild, but kinda neat to see & compare them all!!
Dad took a cool picture of the Disney ship, we got to see up close (b/c we were right beside it and looking right over there) the new big ole movie screens by the swimming pool up there. Those are super cool and after looking at that ship so long, we're all ready to do the Disney Cruise. (again for Andy & I!!)
Mom & Dad were anxious to head back to Paradise Island and the Atlantis. After breakfast, they were off and running....got a taxi and were gone! They enjoyed their day of walking around, gambling some and enjoying the beautiful resort over there.
Andy & I decided to lay low and walk around in Nassau. We looked in tons of shops, but were only window shopping this trip. We were amazed at all the people from all the ships down there, made things very busy. It also made the locals much more reluctant for real bargaining. (I tried) After a couple of hours, we decided to head back to the ship for lunch and then the most relaxing and hot afternoon by the pool!! It was fantastic!!
And before you know it....
It's over. Crazy how that happens. I remember looking on the TV screen the first couple of days and it tells how far yo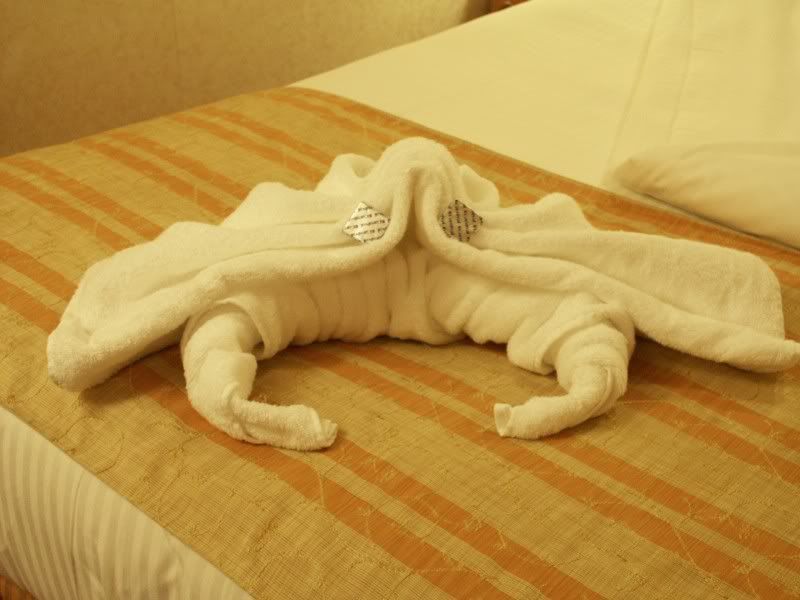 u have traveled from Port Canaveral...how far to your next port, etc....(depth of ocean, temp of pools on board & ocean, plus all sorts of other neat stuff) It would say day 1 of your cruise, day 2 of your cruise.... It seems like such a long time out before you of the trip, then before you know it you are packing your stuff up to toss outside the door for landing back in Florida! Ugh!!!!
Drive Home..
Our 8 & 1/2 to 9 hour typical trip home turned into a little nightmare!! It's the first time in YEARS that we have traveled during any real holiday. There were zillions of people on the roads in the first place, from down there they were headed home from the beach, WDW & ships. Then there ended up being a huge wreck and the road was shut down for almost an hour. We sat with the car in park and watched "Cars" on the DVD player that we had taken along. When we were finally moving again, it was a sllllloooowwww drive home and turned into a 12 hour adventure. I HATE riding in the car in the first place and it wasn't a pleasant trip! Such is life and we made it.
Summary:
It was a great trip. Mom & Dad really loved their long cruise and are ready to head to the Virgin Islands now. (Us too!) We love the Glory and were thrilled to sail on her for a 2nd time, great great great ship and if you ever have the chance...take her out for a spin! The ports were great and we look forward to visiting each and every one of them again! They aren't our favorite spots, but spots that we would love to see again just the same! We are ready to sail again to more new places as well as old favorites. We are definitely still "cruise" people and I think we have an amazing lifetime of cruises before us!!