3rd Stop
Costa Maya, Mexico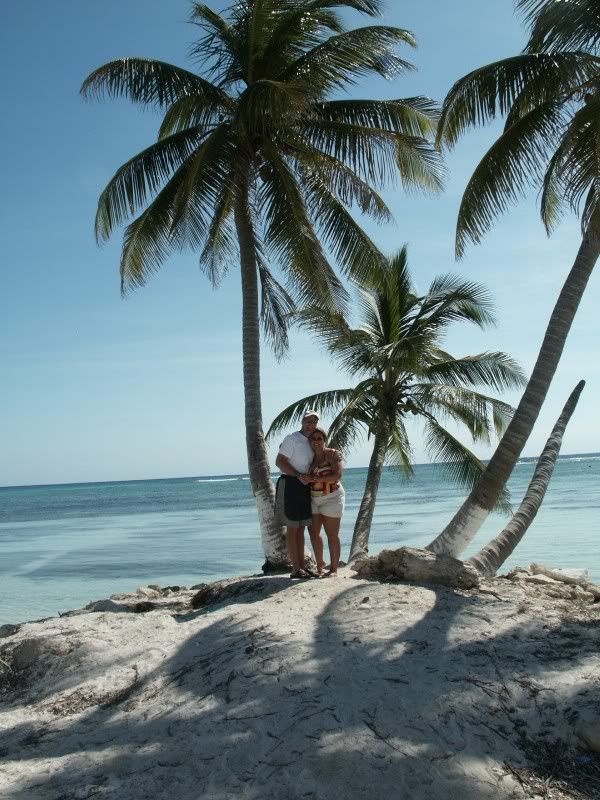 Our 3rd stop was back in Mexico, Costa Maya. Costa Maya itself is actually a "cruise line" made area especially for cruise folks! It's LITERALLY cut out of the jungle and an entire man made area. There is a super nice pier there and a tram that will take you to land if you don't want to or can't walk that far. The area around the pier is a shopping village, restaraunt/bar hangout, restrooms and changing areas (super big & nice) and HUGE saltwater pool. (that has tons of areas to it) The use of the pool, beach chairs and tables all the way around is entirely free. The shops there are very nice and you get a pretty big variety. The prices aren't as good, the further away from crowds you get...the cheaper the prices. If you didn't want to leave the immediate area of the pier though, you'd have a perfectly relaxing day right there and enjoy yourself!! The pool has a swim up bar area as well.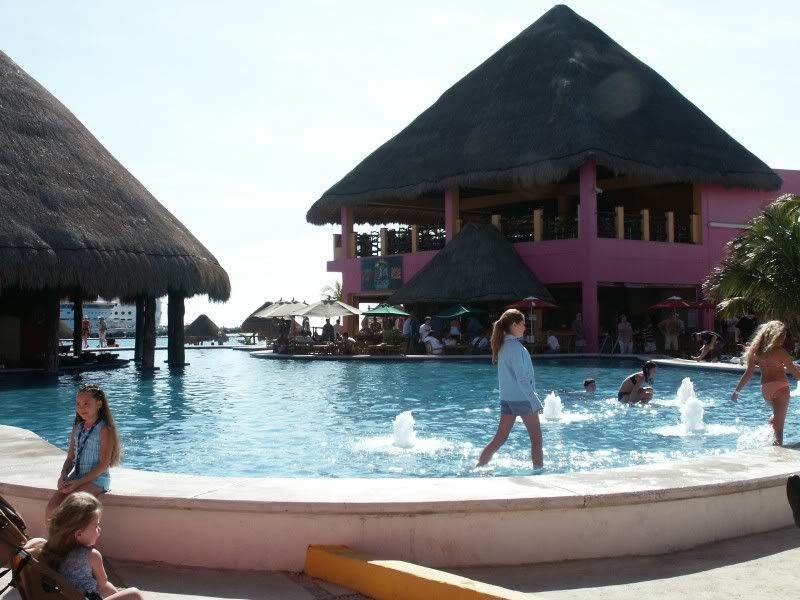 There is another pool that had a volleyball net and there were people in there playing the whole time too, looked fun. There are chairs & hammocks on the beach, but you aren't allowed to swim in that area. (It's right next to the ships) It's pretty to look at though!
We had heard (thank you to my cruise critic friends) that we needed to hop on a (air conditioned) bus right there in the shopping village for just $3 and head for a 10 minute drive to a little village called Mujahaul. That's what we did!! We got our tickets and were off!! It was even shorter than the 10 minute drive we were promised I do believe! They dropped us off at the end of a walkway right on the beach and we were on our way.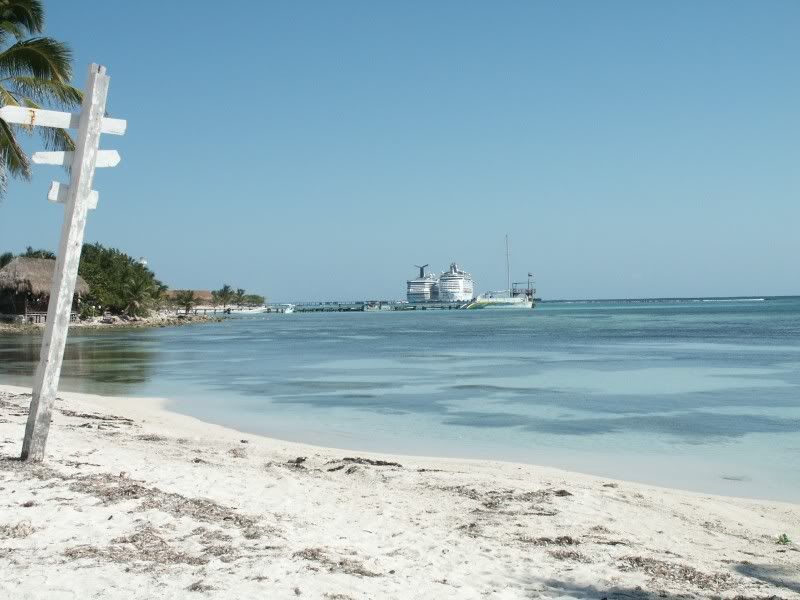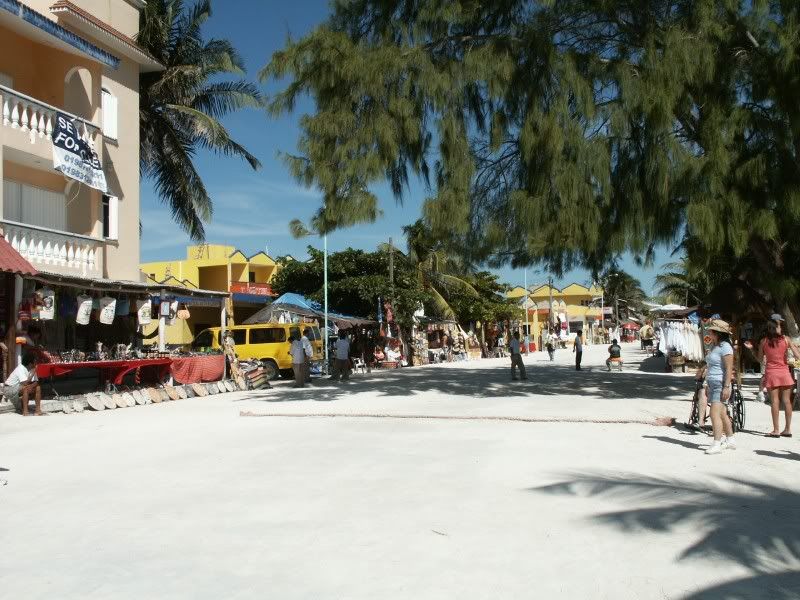 There is a little dirt road there that runs between the beach & shops. There are tons of little shops all down the road. The beach side has little grille/bar/restaraunts set up all along the way and tons and tons and TONS of tables/chairs/beach chairs. You pick one of the restaraunt/bar/grille areas that you like best (or they talk you into picking them) and you are set. You can use the chairs/tables for the day as long as you order something every now and then. Soft drinks were $1, other drinks were around $4-5 and food was super cheap too. We had a big honkin' plate of nachos, they offer all sorts of things. They bring it to you and you never have to leave your chair. Each little area also has a couple of restrooms, they are clean and they work. (Not overly nice and modern, but they work) They keep a tab and you don't have to pay until you get ready to leave, super easy and convenient!!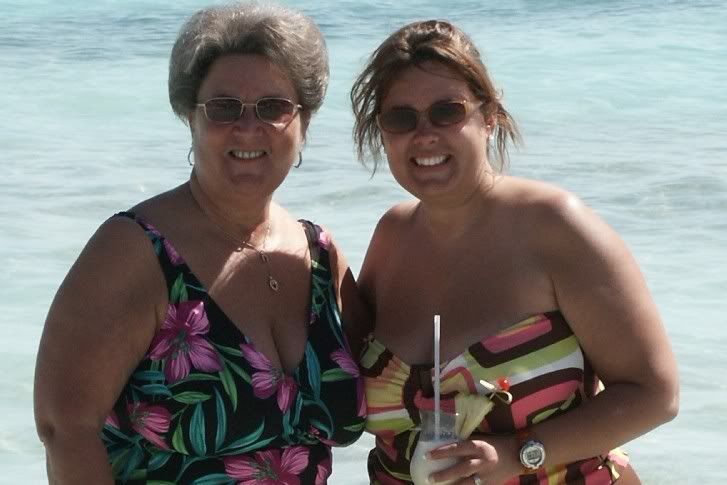 There are massage tables set up all down the beach and it's $20 for 40 minutes. (Oppose to the $100 for 30 minutes on the ship) Andy got one and it ended up lasting for an hour for $20, he did give her a nice tip though! There are also people walking around selling all sorts of things: handmade jewelry (my Mom & I couldn't resist buying bracelets from the cutest little girls ever), purses, shells and all sorts of other random things. They were nice and they would stop if you looked at them, but they were not overly aggressive and didn't "pester" you at all!!! And if Andy finds out I posted this picture of his white legs, he's gonna KILL me...so....shhhhhhh-
There were all sorts of extras offered all up and down the beach. You could parasail, rent jet skis (and take them way way wayyyy out), go fishing on a boat, fish off the beach or just take a boat ride on a pontoon down the little beach. Everything seemed SUPER cheat there too. I know people said they rented jet skis for like $25 for an hour, it's sooooo much more than that ANYWHERE else you'd ever go!!
I took a chair from the table out into the water and sat out there reading my book, this was the view from there....down the beach away from the ships.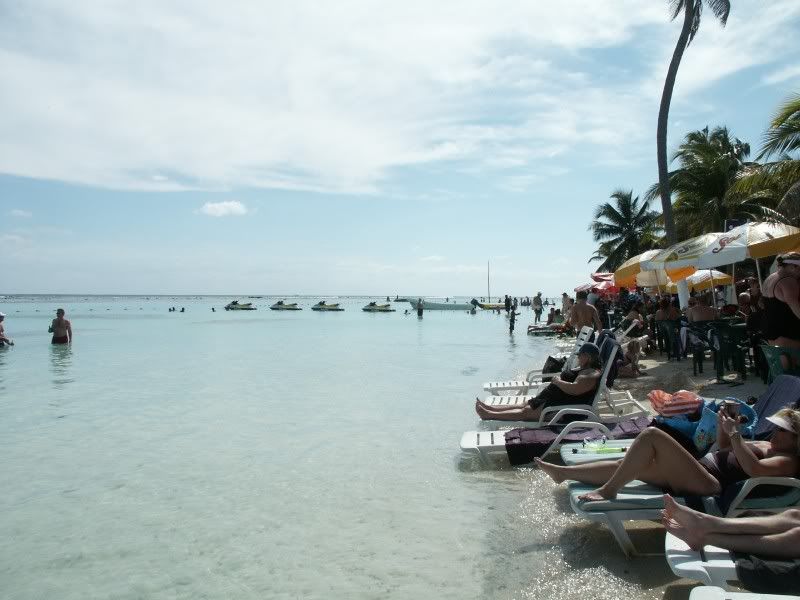 The water was warmer here than anywhere else we'd been. It was also pretty shallow for a GOOD ways out too, that is a good part of the reason I am sure. It was also a beautiful hot day there too!!!
When we HAD to leave...(read that HAD to leave, b/c it was getting late and the ship was LEAVING, not "were ready to leave" because we were tired of our time there) all you did was start walking down the road and there were "organizers" out there from the taxi company and he asked if you needed a ride to the pier, he whistles, a taxi appears out of a side road and for $2 a person...you're back at the Costa Maya area in no time!!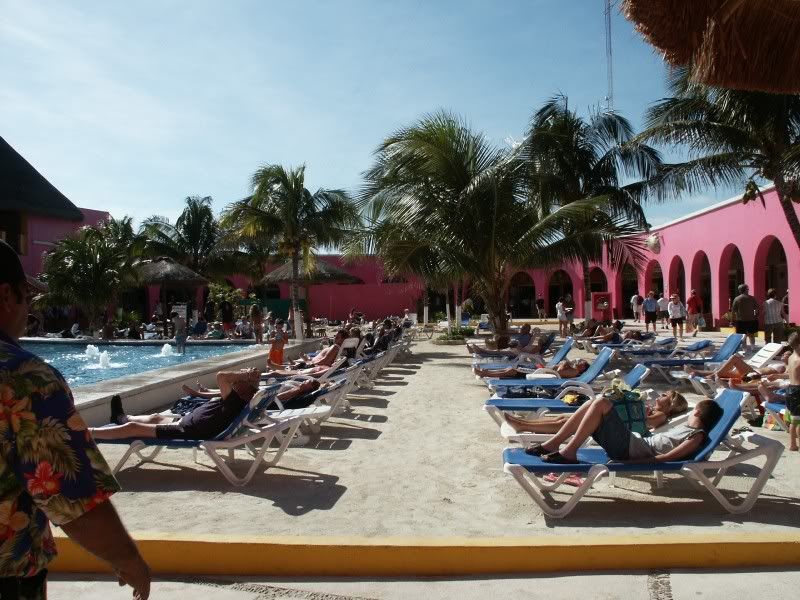 We spent a little while looking around the shops there and planned to hang out at the pool, but were out of time by then. (The shops are under the pink area there in the picture, kind of like a strip mall and it wraps around the entire area and there are shops in the middle too.)
It was a PERFECT day and we CAN NOT wait to get back there!!!!!!