Gingerbread Day

Monday at school was gingerbread day! I had decided to do this about a mo
nth ago and had been planning ever since. I had talked 4 brave parents into helping me for the day. (my assistant was on vacation) It was the MOST fun we've had in a long time!!! T
he kids were able to do SO much b/c we had so many helpers and they had a blast!

We arrived and we colored & cut out paper gingerbread men first thing to assemble
with brads. Then Ms. Kristie read Gingerbread Baby to the class, great story! I split the kids into groups of 4, so there were only 3 kids in each group. On Mondays there are 3 rooms that are empty, so we were able to use different rooms for different activities. In one room they p
ainted wooden ornaments that looked like gingerbread men and we put their
photo insid
e. When they finished those, they also played a Gingerbread Baby game in that room. Then they decorated foam gingerbread men with buttons, wiggle eyes and glitter glue in another room.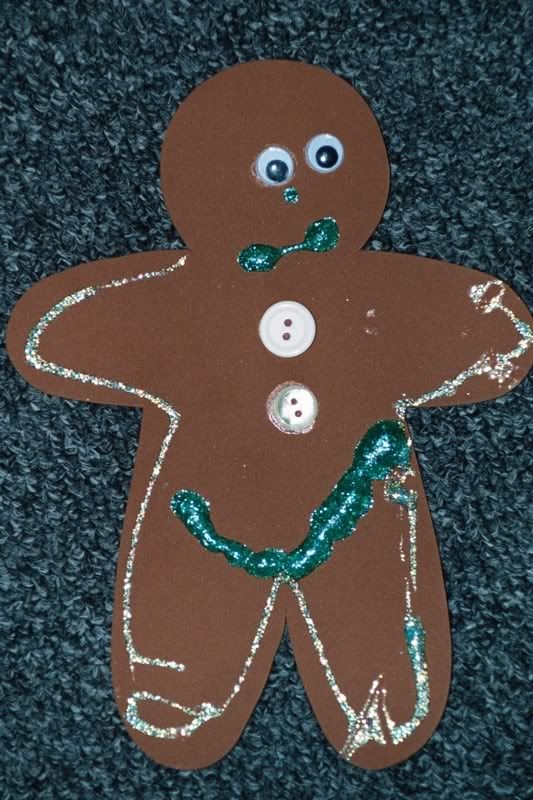 When they finished those they worked on a gingerbread man shape matching game. There was yet another room for decorating the gingerbread house that you see at the top of the page. The last room was for alphabet bingo where we used gingerbread man erasers for "cover up" pieces on our bingo boards. They decorated gingerbread men stickers with mor
e stickers in that room too! Then we all got back together for a few minutes of outside fun!

After that we decorated gingerbread men cookies (though made with sugar cookie dough b/c kids don't eat gingerbread very well) and drank chocolate milk. We to
ok one bite of our cookies and then made a graph to s
how what each person bit off first.


Ms. Tanya read Gingerbread Man and we talked about things that were the same or different in both stories. To wrap it up we made one more foam ornament that s
aid "Jesus warms my Heart" It was a great finish to a fun day. I had plastic gingerbread men to give everyone and we were out of time before I knew it!!


It was soooo much fun~ I couldn't have done so much without a
ll the volunteers and they rocked! We are going to do it again in February for our big ole space unit...should be fun!

*And our Christmas program was today and such a hoot! We do a program based on a book "Someone is coming to our house" and it is about the animals in the stable getting ready for a stranger to visit, the are so excited when they realize it is baby Jesus. Each class dresses up like an animal. (We were mice: wore gray shirts, mouse felt ears and had painted noses & whiskers) Each class has a line to say as they walk on stage and take their place. Then they all sing 5 songs, ending with an extended version of "Happy Birthday Jesus".. if you've ever heard it.. it's heart warming!! What a great day. Our party was back in our room with a book exchange game, pin the nose on Rudolph, jingle bell bracelets and pizza!! Tons of fun was had by all!!!*