St. Thomas
(View from our room)
We left our house on Monday morning at 6:00 and were at the airport and in line by 7:30. When we saw the security line for the first time, we were sure that we'd never make our 10:00 flight! The line was like something I've never seen before. It moved pretty quickly though and we were through security in just over an hour. Strangely enough I saw a friend at the airport that I work with, what a hoot! (Shout out to Pam who was headed with her hubby for a Vegas Birthday trip!) We met up with Andy's friends from work and boarded our plane. Then.... nothing happened.
(Gotta love the take it yourself photos!)
We waited....and waited.....and waited. The pilot came on to tell us that when they had landed in Atlanta, they found an oil leak. They were working on finding out if they needed to fix it or just get us another plane. (another plane please) He came back to say "we don't know where the leak is coming from, but when they opened the door down there ... oil poured out" Sound comforting? After about 10 more minutes we were feeling better when the pilot told us that we were getting another plane! So, we get off and wait again. It takes about 20 minutes for us to find another plane and then another 15-20 before everyone is back on board.
(The top of the hotel where people had weddings and stuff. Great views of St. John and the other small islands!)
Finally, we're off! I had a rather icky flight (too much craziness) and even though I watched a "Ray Ramano" comedy special, played trivia with everyone else on board and enjoyed my own little tv to play with ... I was glad to arrive in St. Thomas 3 hours and 50 minutes later! What a strange morning!
We got a van (taxi) with Andy's friends and were on our way. We learned all sorts of things about the island as we headed to the resort. The island is just as beautiful as we remembered! HOLY MOLY it has TONS of mountains!! We were going straight up, up, up and it felt like we were headed to a cabin in the mountains rather than a resort on the beach. Crazy! We arrived, checked in and headed for the beach!
(Here is part of the pool area. There were 3 pools that were all connected with little water falls. One pool had a volleyball net, one had a pool basketball goal and the other had the big water fall in it. Fun! There were ALWAYS activities going on everywhere at the resort)
Our first day Andy was in his conference from 7:30-4:30 other than for the hour when he came to eat lunch with me. I spent the ENTIRE day at the pool and beach after breakfast! It was 100% heavenly! I am pretty sure heaven will look like the beaches in St. Thomas! I read, swam, laughed at iguanas and baked myself! Andy joined me when he was finished with his junk! We had a fantastic dinner where my steak & 'taters were perfect! Then we ordered "flour less chocolate cake" WOWIE ZOWIE!! It was pretty much FUDGE with cool whip, unreal~ (Did I mention the resort is all inclusive, our first experience with that .. other than cruising)
Day two was more of the same. Andy went to work and I headed to the beach. He was finished for good by lunch and we were l-a-z-y! We talked about heading downtown for shopping and the gondola ride up to Paradise Point (where we went last trip), but ended up spending the entire afternoon at the beach! How can you resist? For dinner I had the exact same meal, including flour less chocolate cake, yummo!
(Andy hard at work)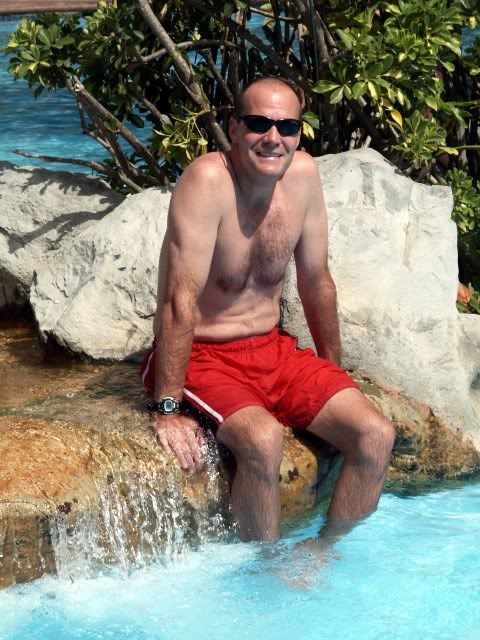 We spent Thursday morning at the beach until about 12:00 where we had to start out for the airport. We got everyone together and were off. We had the sweetest little O L D man for a driver and he was so proud of his island! He told us all about the old military bases on the island and stopped at the islands American Legion just to show us. (We were afraid we were headed for an entire walking tour too) We arrived at the airport and had to laugh at how different it works there from in Atlanta! The same lady that checked us in was outside directing us to the plane later on, funny! I love that you walk out onto the run way and just kinda "pick a plane"! Hilarious~ Andy said it was a grass hut and a run way, well .. pretty much! When you see just how short the runway is .. you try not to think about it!
(Andy hard at work again)
Our flight home was uneventful compared to the hoopla we'd had in coming. It was about 30 minutes shorter, I think it's neat how that works. We didn't have our own tv and I watched "Blades of Glory" with everyone else, ugh! (Where's a smilie rolling it's eyes when I need it?)
It was the shortest trip we've ever taken! The only place we go for long weekends is the mountains or camping, so this was different for us. We kept reminding ourselves that it was a total surprise in the first place and we were lucky and blessed to even be going! So we think back that at 11 we were on the beach with our feet in the Caribbean Sea and by 7:30 we were sitting in Johnny's Pizza in Hiram, life is wild! We were soooo blessed to be able to take a trip like this for "work", the military is good to us!
(Iguanas were everywhere! This guy was coming for me!! People were feeding him fruit from the bar and he thought I was going to join in the feeding I guess. I was sitting there minding my own business in my chair and there he was! There was an area where they hung out and Andy counted 34 there one afternoon!)